Calling kids of all ages! 
Join us in the Youth Zone, a very cool part of Festival du Bois! It's a special area of the festival that's full of great things for kids and their families to do.
See talented local school teams theatrically compete for your applause and a coveted trophy in the Improv Tent, sponsored by LIFC.
Get your face beautifully decorated in the Face Painting Tent, sponsored by Conseil Scolaire francophone – École des Pionniers de Maillardville.
Follow the signs to have a blast in the Youth Zone, located in the southern part of the festival site.
Located in the southern part of the site, please follow the sign "Youth Zone" when you get to the festival.
Unis TV presents : Canot Cocasse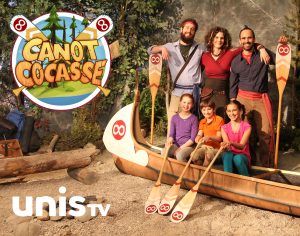 The French-language television network Unis TV invites you to meet the friendly cast of "Canot Cocasse"! See their magic canoe and let yourself be transported into a universe of discovery and exploration. Take silly pictures and join them for the coloring activity: family fun guaranteed!
View in: French